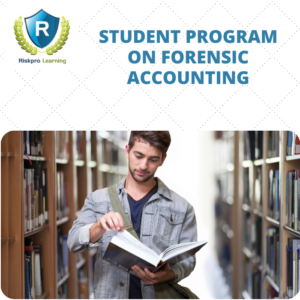 Certification Forensic Accounting and Fraud Detection is a global forensic accounting certification program offered by Riskpro Learning. This certification program is created for global students who are willing to take up the career in forensic accounting.
Global Certification is a certification designed for the international accounting aspirants who are not yet ready to take up the CFAP program. This global certification would add up value  and gain knowledge for the new aspirants. Above all this is a global forensic accounting program which is helpful for the entry level staff willing to take up fraud detection as the career option.
Significantly, this certification is offered by Riskpro Learning , which is one of the first institute of certified forensic accountants. It is one of the leading companies in the forensic, risk and alliance.
Global Forensic Accounting Certification 
Litigation Support and Investigative accounting are the two pillars of forensic accounting. Fraud examination is just a small subset of the work done by the investigative accountants. International forensic accountants are involved in the investigations of the cross border transactions. Unlike other forensic accounting certifications, it is not necessary to be a chartered accountant or a certified public accountant. It is open for the graduate students of commerce, finance and accounting faculties. It is necessary to have interest in developing investigation skills to be a forensic accountant.
Not to mention but cross border investigations are complicated. It requires the forensic accountants to understand the local laws, in addition to the understanding of the concepts taught in the course. Equally, they work on huge data to investigate the frauds. Data analysis is becoming the important tool in the battle against the frauds.
Globally, forensic accountants are invited to present as expert witness in the international court of laws. Another key point is that they analyse the financial records and gather the information which is required to be presented in the court of laws.
 Global Forensic Accounting Examination 
Following are the points to appear for the examination:
The aspirants are required to register
The examination is conducted through online mode
No negative marking criteria
The minimum passing marks for the same is 75%
Certification Benefits
It offers an exhaustive content available for the students.
Thorough knowledge of the forensic accounting and Fraud
What would this certification program bring to your career?
The aspirants would earn the career credentials
Awareness of industry practices, problems, solutions that are taking place at large.
Aspirants would benefit by getting the clear understanding of the day-to-day responsibilities of professionals
Basics of Forensic Accounting