2 Enrollments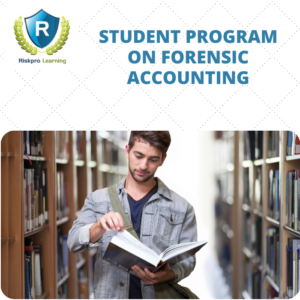 Certified Forensic Accounting Professional is the premier designation offered by Riskpro Learning. This designation is designed for those working in the accounting and auditing professionals who would like a forensic accounting designation or for those who would like to upgrade their skills in forensic accounting. This certification is offered to those who complete the Uniform CFAP examination with at-least 75% marks.
Riskpro is committed to providing a comprehensive resource center for all students to learn about the global threat of accounting frauds. Riskpro aims to help them prepare for careers in the anti-fraud profession. We offer the certification courses to college students interested in fraud prevention and detection. This certification program is open to undergraduate students enrolled in 9 semester hours (or equivalent), or graduate students enrolled in 6 semester hours (or equivalent) in an accredited college or university.
Course Details
You will study the effects of financial crime on the economy and learn about the psychology of the fraudster plus a detailed breakdown of the investigative process.  Detect the signs of fraud and conduct a thorough fraud risk assessment framework and interview witnesses.  Fulfil all Essential Forensic Accounting Certification requirements with this advanced diploma and explore a world of career prospects.
Basics of Forensic Accounting