Certified Bank Forensic Accountant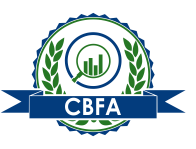 Certified Bank Forensic Accountant (CBFA) is a banker, bank audit, professional or a consultant who has undergone training to become an expert in the domain of forensic accounting in the banking sector. Certified Professionals are also experts in the subjects like forensic auditing related to banking sector, litigation support and investigative accounting.
This program is one of the foremost certifications offered by Riskpro Learning and focus on the frauds in the banking and financial institutions.
In the wake of the growing banking frauds and the media coverage for the frauds in Punjab National Bank, CBFA is becoming important certification. Public Sector banks in India were found to be under significant stress of bad loans.
Started in 2006,this was one of the first offerings from Riskpro Learning. Reserve Bank of India regularly issues the guidance on how to report frauds. These RBI master circulars don't form part of the study material or the syllabus but the bankers need to understand them in order to report the incidences.
Certified Bank Forensic Accountant
CBFA is a designation awarded by Riskpro Learning and moderated by the Forensic Accounting Research Foundation. The Forensic Accounting Research Foundation is a member-based Indian organisation dedicated to providing forensic accounting and forensic auditing education and training with presence in more than 7 countries including Nigeria, Oman, Qatar, UAE, Uganda and others.
Indiaforensic Center of Studies offers three certifications viz.
Certified Anti-Moneylaundering Expert
Certified Bank Forensic Accounting
Certified Forensic Accounting Professional
Syllabus for CBFA
The syllabus of CBFA is exhaustive and covers wide number of practical case studies on the bank frauds.
Identify indicators of fraudulent activities
Undertake forensic analysis and assessment of risk factors
Predict/anticipate fraud
Investigative methods
Analysis of financial information
Systems methodology for investigation
Statistical techniques
With the advent of technology, types of bank frauds have evolved. We created the video learning programs to adopt the changes in the nature of frauds. These training programs cover the new areas such as credit card frauds, wire transfer frauds.
Contact Us
If you are interested in registering for the Certified Bank Forensic Accounting program then please call us on 9766594401 or write to us on cbfa@indiaforensic.com